Shelly Hagan, Owner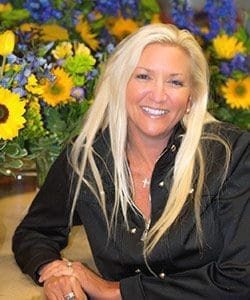 Jacksonville Flower Market was created by owner Shelly Hagan with her passion for flowers and creative self-expression.
Flowers bring so much emotion to each person receiving them and that's why Shelly builds the best team possible to serve Duval County and surrounding areas since 2018. From the gorgeous everyday arrangement to the elegant wedding, Jacksonville Flower Market has upheld its reputation of excellence through its innovative, cutting-edge designs and unbeatable service.
Jacksonville Flower Market has had the privilege of being awarded by several notable industry awards, including top 250 florists in the USA and top 10 in customer service nationwide. We believe in surpassing customer expectations. We custom select flowers across the country with the highest quality to satisfy our customer needs.
Throughout its operation, Jacksonville Flower Market has always and continues to invest in the most advanced technology available to our industry. Jacksonville Flower Market's technological capabilities create the necessary efficiency within the organization to provide our clients with the level of the professional service they deserve and we demand in an increasingly technological marketplace.
We hope you will allow Jacksonville Flower Market to serve you and your family the way we have served so many.